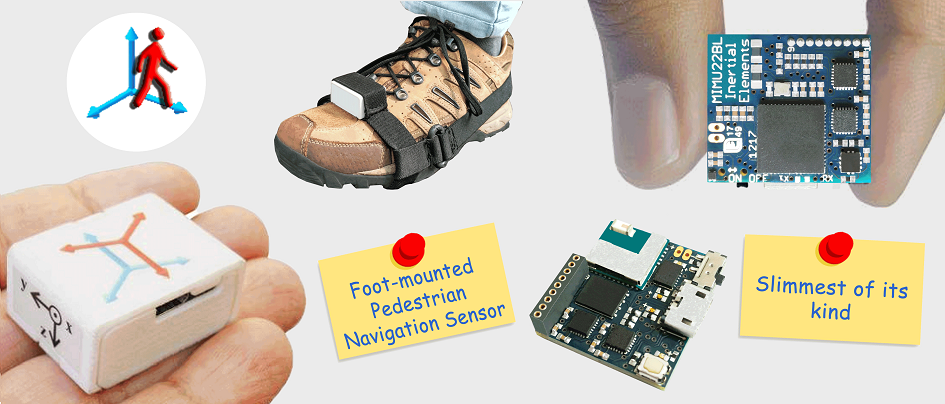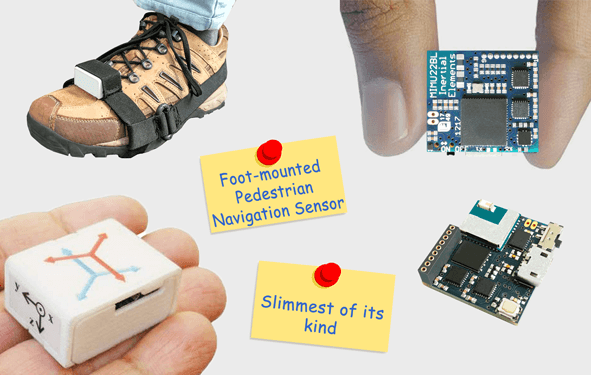 Osmium MIMU22BL / 22BLP / 22BLPX
A Shoe-based PDR Sensor (IMU)
An IMU-array based Precision Wearable Motion Sensor Platform (IMU) - The Osmium MIMU22BL - is a miniaturized motion sensing multi-IMU (MIMU) platform, configured as shoe-based Pedestrian Dead Reckoning (PDR) sensor for real-time indoor localization in GPS denied environment. It is a smart IoT sensor node, capable of providing simplified yet information rich data, thereby relieving application platform and developers from the compute intensive development and tasks. This greatly simplifies data interface and makes integration of this device with rest of the localization system, effortless. Thus resultig in improved tracking accuracy, relaxes constraints on the integration platform and significantly reduces time-to-market.

Presence of on-board floating point processing capability, along with four IMUs array, makes sensor fusion and motion processing possible within the module itself, which in turn results in very accurate motion sensing. Being one of the thinnest IMU in the market, it is suitable for applications with space constraints, e.g. wearable motion sensing. It finds applications in indoor real-time location systems (RTLS) for industrial workers and first responders. It also has applications in robotics, urban geo-survey, AR, gaming, gait biomechanics, wearable IoT etc.


MIMU22BLP is the packaged version which includes encased assembly with 150 mAH Li-ion battery. MIMU22BLPX is also the packaged version, with 500 mAH Li-ion battery for day-long battery backup.
Highlighting Features
4 nine-axis IMU array (Accelero+Gyro+Magnetometers)
IMUs' placement and orientation to minimize systematic errors
Bluetooth v4.1 and USB 2.0 data interfaces
32b Floating point controller with 512 Kb internal flash
Pressure Sensor, 8 Mb DataFlash memory*
Barometer & IMU fused altimeter for superior altitude performance
Inbuilt sensor fusion and calibration compensation
Power with Li-ion battery, USB; Battery charging with USB
ON-OFF switch, LED indicators; Peak continuous current: 65mA
Onboard connector for programming
USB (Bootloader) programmable; JTAG programmable
Single board; Low profile
Rechargeable battery; Battery backup:

MIMU22BLPX &nbsp: Eight to Nine hours
MIMU22BLP &nbsp&nbsp&nbsp: Two and a half hours approx

Dimensions & Weight:

MIMU22BL &nbsp: 20.9x22.7x5.0 mm; Weight - 3.5 g
MIMU22BLPX &nbsp: 42.2 x 27.9 x 17.0 mm; 20gm
MIMU22BLP &nbsp&nbsp&nbsp: 31.0 x 23.5 x 13.5 mm; 12gm
*As of now, software support for DataFlash memory is not available.
Application Interface
A simple command based interface
Opensource Python APIs
Access to sensors'data
Access to fused and intermediate data
Smart Andriod Application
Allows Google Map based tracking
Access to tilt compensated true magnetic compass
Allows compass calibration
Provides 3D positioning information
Allows remote monitering of battery status
What we offer more
Shoe-mount for easy demo (optional accessory)
Calibration device (optional accessory)
Python APIs for calibration
Basic calibration and field testing
Freely Android application DaReX
Android and Python APIs
Customization services for bulk (optional)
Application notes, manuals and tutorials
Tech support from the experts
The PDR System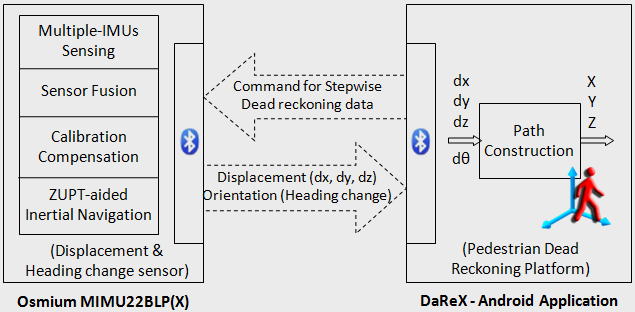 The PDR system consisting of the shoe-sensor (IMU), The Osmium MIMU22BLP / MIMU22BLPX, and the interfacing Android application DaReX. Data from on-board multiple IMUs are sampled, fused, calibration compensated and undergo navigational computation to produce displacement and heading information. The MIMU22BLP / MIMU22BLPX transmits requested data in response to an appropriate command from DaReX. DaReX constructs tracked path using stepwise PDR data from the shoe-sensor.
PDR With The Osmium MIMU22BLP / MIMU22BLPX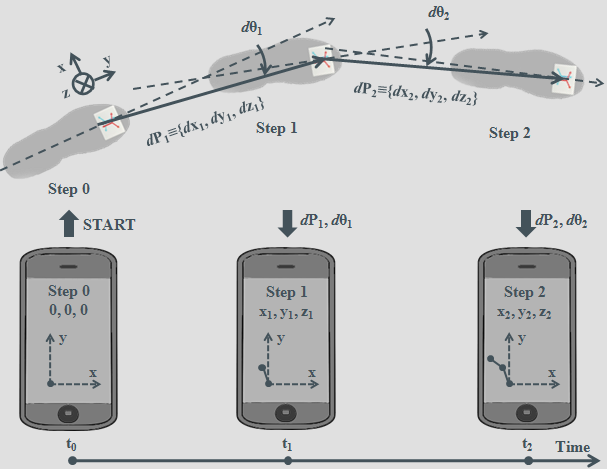 The IMU-array along with the motion-processing-inside approach not only improves accuracy, but also simplifies PDR data transmission. The PDR data, i.e. displacement and heading change, is transmitted at every step in a very simple format. Data transmission frequency matches with the step frequency which is typically 1 Hz for normal walk. Thus the low rate PDR data (typically few tens of bytes per second) reduces chances of transmission losses as well. The PDR data also removes computation burden from the application platform. The modular approach relaxes constraints on the integration platform, lets application engineer focus on incremental development and significantly reduces time-to-market. Please go through the short informative video under the title "Pedestrian Dead Reckoning with Foot Sensors" in Blog section."
Block Diagram of The Osmium MIMU22BLP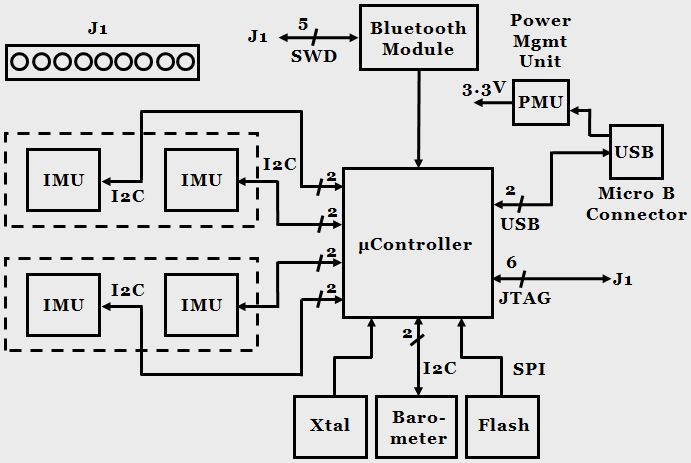 Support
Please visit Support section for resources, tutorials, FAQs etc and Blog for more information on technology.