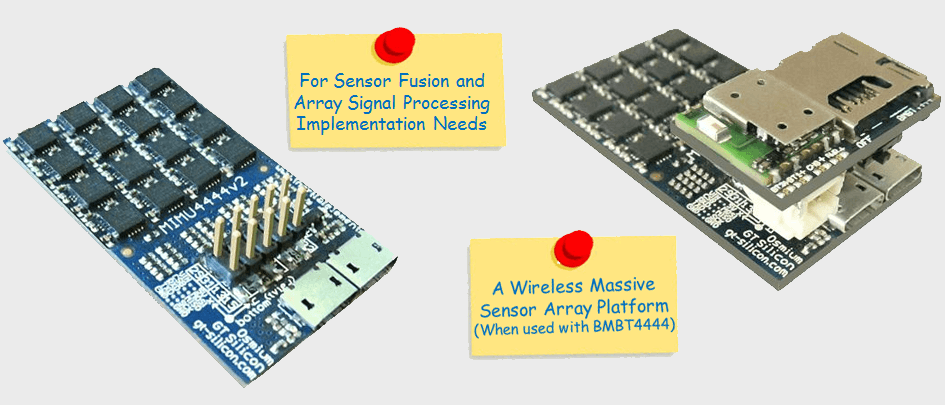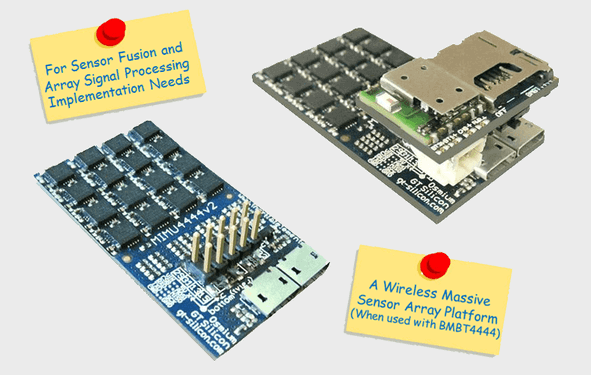 Osmium MIMU4X9C / MIMU4X4C*
A Massive Inertial Sensor Array Module
The Osmium MIMU4X9C / MIMU4X4C is a variant of massive inertial sensory array module MIMU4444 / MIMU4492, with a 10-pins connector for primarily allowing access to UART and SPI IOs of the micro-controller. In short, MIMU4X9C / MIMU4X4C = MIMU4492 / MIMU4444 + 10-pins Connector. MIMU4X9C / MIMU4X4C, when used with the extension board BMBT4444, is capable of storing data in micro SD card, operating on battery power and most importantly, wireless communication with the application platform.
*The only difference between MIMU4X9C and MIMU4X4C is the IMU's model number. MIMU4X9C includes MPU-9250, whereas MIMU4X4C makes use MPU-9150. Firmware of MIMU4X9C is compatible with MIMU4X4C. MIMU4X4C's support material can be referred for MIMU4X92 also.
Highlighting Features
A Massive 32 IMUs array: Two 4x4 IMU arrays.
Array of nine-axis IMU (Gyro + Accelero + Magnetometer).
IMUs' placement and orientation to minimize systematic errors.
Parallel communication with IMUs using 32 parallel s/w I2C buses.
Sensor fusion and calibration compensation on-board.
Floating pt controller AT32UC3C with 512 Kb internal flash.
USB 2.0 data interface, All sensors accessible through USB.
JTAG programmable (needs dedicated JTAG cable).
Power with USB; LED indicators; 49.3mm x 26.6mm.
MIMU4X4C = MIMU4444 + 10-pins Connector.
MIMU4X9C = MIMU4492 + 10-pins Connector.
Access to UART and SPI IOs.
Access to power ports to enable battery operability.
Supporting Softwares
Open source embedded C code
Framework for sensors' i/f and data comm
ZUPT based inertial navigation.
Command based data communication protocol.
Access to meaningful intermediate variables.
Easy to modify, highly modular s/w design.
Open source communication scripts for PC.
Support
Please visit Support section for resources, tutorials, FAQs etc and Blog for more information on technology.
BMBT4444
( An Extension Module to MIMU4X9C / MIMU4X4C)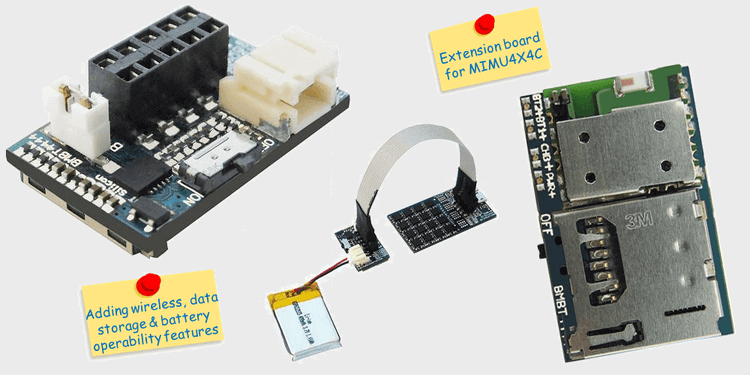 Product Overview
The BMBT4444 serves the purpose of extension board for MIMU4X9C / MIMU4X4C. When used with MIMU4X9C / MIMU4X4C, it adds wireless communication interface (Bluetooth), data storage (Micro SD Card) and battery (Li-ion rechargeable) as another powering option to the inertial sensor array module.
Highlighting Features
Bluetooth version v3.0; Micro SD card holder*.
Power with Li-ion battery, USB; USB battery charging.
Power ON-OFF Switch; LED indicators for power and status.
JST battery connector; Option to disconnect Bluetooth.
10-pins female connector (2.54 mm pitch) with UART, SPI and power IOs.
Size: 26.6mm x 16.7mm.
*As of now, software support for Micro SD Card is not available.
Functional Diagram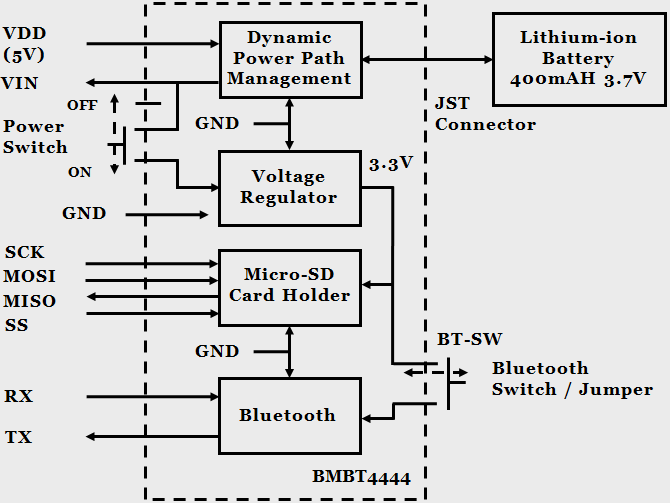 Support
Please visit Support section for resources, tutorials, FAQs etc and Blog for more information on technology